09 juillet 2008
Je vais aller les voir en concert !!!!!
Le 25 novembre !!!!! (au fait, 5 mois de pause, je vais essayer d'être plus zèlée la prochaine fois). Quand Juliet me l'a annoncé, en précisant gentiment que c'était un mardi, je me suis dit : "Merde, putain, encore un concert énorme que tu vas rater, fait chier." J'en parle à ma mère ; pas chaude du tout, mais arrive à la convaincre de me laisser y aller si je trouve quelqu'un pour m'héberger (ouais, parce que le Ninkasi de Lyon, c'est pas à côté). Reste encore à trouver ce fameux hébergeur. Vraiment merci merci merci à Max & Elsa.
MGMT !!!!!
D'abord, on dit pas "Managment" mais "MGMT" si, c'est vrai, ils en parlent >ici<. Ensuite, Andrew VanWyngarden et Ben Goldwasser ne sont pas des hippies (ça c'est le job de Devendra Banhart) mais des... euh... Deux jeunes gens avec des foulards dans les cheveux au potentiel très étendu (musicalement, j'entends) qui vont chercher du côté de l'électro qu'ils mixent avec du rock en y ajoutant une touche pop qui peut parfois virer disco le tout dans une atmosphère psychédélique. Exactement ce que j'aime. Et puis, avouons que voir Andrew en vrai, c'est une perspective assez excitante...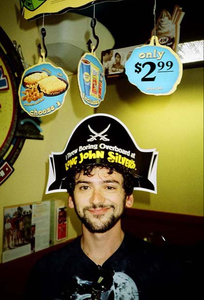 All along the western front
People line up to receive.
She got the power in her hands
To shock you like you won't believe.
Saw her in the amazon
With the voltage running through her skin
Standing there with nothing on
She's gonna teach me how to swim

Ooh girl
Shock me like an electric eel
Baby girl
Turn me on with your electric feel

All along the eastern shore
Put your circuits in the sea
This is what the world is for
Making electricity
You can feel it in your mind
Oh you can do it all the time
Plug it in and change the world
You are my electric girl.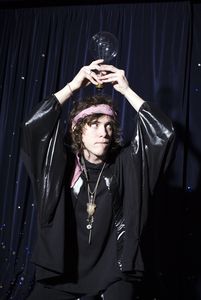 Ooh girl
Shock me like an electric eel
Baby girl
Turn me on with your electric feel

Do what you feel now
Electric feel now...
Vidéos :
Time To Pretend - MGMT
Kids - MGMT
Electric Feel - MGMT
Commentaires sur Future Reflexions